Visitor induction system
Overview
Companies have an obligation to inform visitors and contractors of their personal safety responsibilities, any site hazards and relevant company's procedures.
The best way to do this is with a visitor induction system that can be accessed from the users own phone or from a kiosk on site.
A visitor induction system will record all entries and departures, so personnel on site can be easily identified and contacted during an emergency.
The features of the Pertrain visitor induction system are:
Front end user interface
Provides visitors and contractors with the induction content and assessment questions
Each site can contain different types of inductions with different induction content
Can be accessed from the user's own device or via a kiosk on site.
Sends a reminder text to the visitor if they have not logged off within a certain time
Notifies the site escort that the visitor has arrived via email
Can scan a visitor card for frequent visitors or employees
Back-end administration site
Induction content and questions can be easily customized
Records all visit times and visitor information
Produces full reports and statistics
Employees can invite/register visitors and contractors to site through the web interface
Visitors can complete the induction before they come to site
General benefits
Consistent message delivered to visitors
Portrays a professional company image
No need to decipher handwriting on sign in books.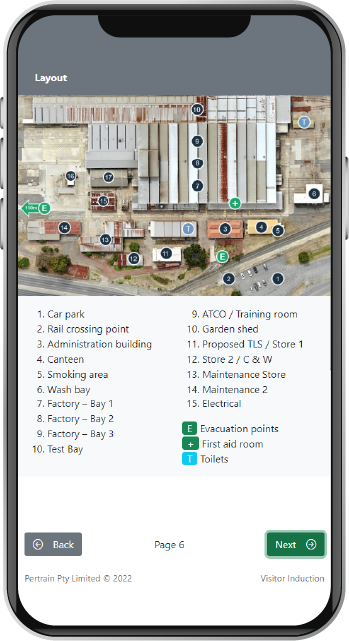 Inductions
A site can have a number of different inductions, for example a general visitor induction, delivery driver induction and a contractor induction. A system can also be used to keep a record of employees onsite.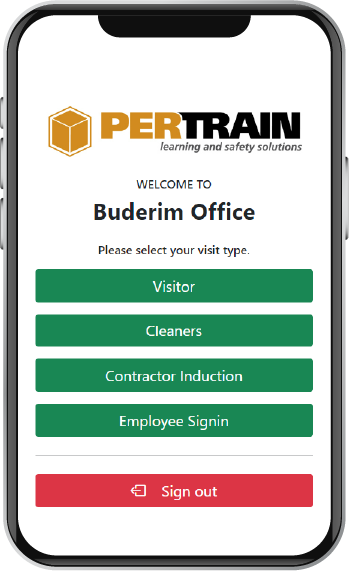 There are 3 induction types
Supervised
Supervised visitors are short term visitors that are coming to site for meetings or supervised work.
A supervised visitors will need to stay with a company escort at all times during their visit.
Unsupervised
Unsupervised visitors are workers that are conducting unsupervised work onsite. These may include:
Cleaning staff
Trades people
Contractors
Unsupervised visitors are required to conduct a more detailed induction than a supervised visitor. The induction should cover additional company policies and procedures.
Employee
Employees are full time staff that work at the site on a regular basis.
Employees:
can invite people to site
are listed in the "who are you visiting" list
have completed a full employee induction as part of their onboarding process
Induction content
The induction content can be developed and edited by your team, or one of our skilled developers. Simply use the "Word like" WYSIWYG (What you see is what you get) editor to create the induction as if you were using a text editor. Or take full control over the content by editing the html source code.
Induction content is html 5 and CSS 3 so your induction content can be fully responsive (works on both mobile devices and PCs). The system take advantage of the Bootstrap 5 framework to assist experienced developers.

Induction content can incorporate video, photographs, cartoons and voice over.
An image library is also included that contains common generic images that are used in inductions, or you can add your own images.
Induction Questions
Each induction must include at least one question to verify the visitor has read and agrees to the content. Company administrators can add one or many multichoice questions in the administration area.
Records and reports
Visitor details, along with the date and time, are stored in a central database that can be accessed by authorised site personal through web/intranet site.
This administration web site can produce reports including:
visitors currently on site
visitor entry and exit times
site personnel who were visited
visitor's emergency contact number
number of visitors over a given period
who has visited within a given time frame, by company or visitor name
number of times a particular person has been to site.
Hardware (optional)
The visitor induction can be delivered from the user's phone. However, a touchscreen unit is used to provide additional security and ease of use.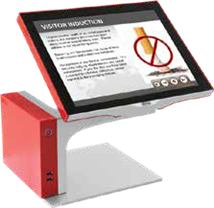 The Sango Touchscreen Computer is ideal for offices that are short on space or already have a reception area that a terminal can be placed on the desk.
With three Year Warranty and a 2-week delivery time this is a very attractive option.
This unit can also be wall or pole mounted and comes with 5 USB ports that can support card printers, bar code scanners or web cams.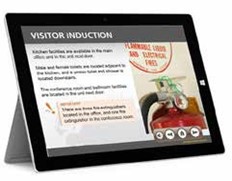 If you need portability, the visitor induction can be shown on a MS Windows based tablet. There are many suitable tables on the market.
The Dymo 450 is a USB black and white thermal printer and can be used to print visitor tags that can be displayed on the visitor during their visit.
Costs
You can use our out-of-the-box Software as a Service (Saas) solution as a pay per month option, or you can get a fully customized solution that links to your Active Directory system and can be fully customised.
Base costs
| | |
| --- | --- |
| 1 x Site license | $1,700 / year |
| Additional site licences | $1,000 / year |
| Or host it yourself | Call for quote |
Optional costs
| | |
| --- | --- |
| Initial induction content creation | $350 / page |
| Desktop touchscreen unit (Sango) | $2,850 each |
| On-site training | $1,500 a day plus travel expenses |
| Web training | $150 / hour |
| Induction content updates | $150 / hour |
| Software customisation | $180 / hour |
| Tablet (Microsoft Surface) | $950 each |
| Card scanner | $380 each |
| Dymo Label Writer 450 | $175 each |
| Logitech HD Webcam C525 Web camera | $175 each |